The Beatles
Kinfauns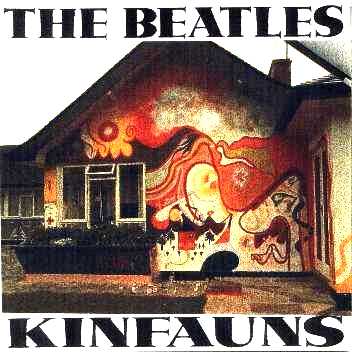 Label: Silent Sea 004

 1. Sexy Sadie
 2. Rocky Rackoon
 3. Polythene Pam
 4. Mean Mr. Mustard
 5. Piggies
 6. The Continuing Story of Bungalow Bill
 7. Junk
 8. Whats The New Mary Jane
 9. Blackbird
10. Everybody's Got Something to Hide Except for Me and My Monkey
11. While My Guitar Gently Weeps
12. Glass Onion
13. Back In The U.S.S.R.
14. Happiness is a Warm Gun
15. Not Guilty
16. Dear Prudence
17. Honey Pie
18. Yer Blues
19. Mother Natures Son
20. Child of Nature
21. I'm So Tired
22. Ob-La-Di, Ob-La-Da
23. Cry Baby Cry
24. Circles
25. Julia
26. Sour Milk Sea
27. Revolution

Sleeve Notes:
Kinfauns was Georges comfortable little one story house in Esher, outside of London. It was there that The Beatles gathered sometime 
during May 20th to 29th 1968. Using Georges four track ampex reel to reel to tape recorder, the group recorded acoustic demo's of the 
many songs they'd written while at the Maharishi's ashram in Rishikesh, India, many of which would be re-recorded in the studio and 
released on the White album.

Comments:
These Kinfauns tracks are also on The Beatles - You Become Naked - Vol.3&4 in much better quality and in stereo.

'Mother Natures Son' has the same tune but different lyrics that would later be used by John for the song 'Jealous Guy' 
on his solo album Imagine.


© 1998 David Laurie