The Beatles
Acetate Collection
Vol.3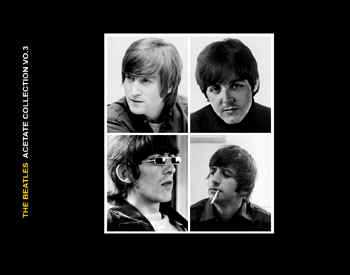 Label: Unicorn Records UC-145

 1. Kansas City (EMI Acetate)
 2. Some Other Guy (EMI Acetate)
 3. Bad To Me (Dick James Acetate)
 4. One & One Is Two (Dick James Acetate)
 5. Keep Your Hands Off My Baby (Phillips Acetate)
 6. Some Other Guy (Phillips Acetate)
 7. Beautiful Dreamer (Phillips Acetate)
 8. You Can't Do That (EMI Acetate)
 9. And Your Bird Can Sing (Dick James Acetate)
10. Not Guilty (Apple Acetate)
11. Hey Jude (Americom Pocket Disc 3.25 Edit)
12. The Beatles Box (World Records Flexi)
13. Sound Of The Stars (Disc & Music Echo Flexi)
14. The Beatles Live! (Flexi)
15. The Beatles Singles 1962-1970 (Flexi)
16. Ballad of John & Yoko (Apple Acetate)

Bonus Tracks:
17. Another Day (8" Mono Acetate)
18. Sisters O Sisters (10" Main Room Acetate)
19. Go Down Go (10" Metromedia Acetate)
20. Thingumybob (7" Apple Acetate)


Liner Notes:
The Beatles 'Acetate Collection Vol.3' is the latest collection of rare and hard to find discs, some never 
heard before and new to CD. This compilation also offers the listener to some scarce flexi discs and alternate 
format records that, although some previously available, compiles them in one place.

Firstly the widely talked about 'Cavern' acetates, originally filmed on August 22nd, 1962 by Granada TV, 
the audio performances were deemed below par, and the crew returned on September 5th to record 
audio only parts to be dubbed onto the August film footage, this never happened, although acetates were 
made from the audio dubs which is presented here. 'Kansas City - Hey Hey Hey', a partial acetate which 
was used on the Anthology DVD's, the version here has had the voice over narration removed, the 'Some 
Other Guy' acetate has been lifted from Bulldog's 1990 CD release 'Live In The United Kingdom 1962-1965' 
due to it being the most complete and cleanest source with no noise reduction.

Two Dick James acetates follow, 'Bad To Me' & 'One & One Is Two'. 'Bad To Me' was recorded in May 1963, 
the acetate featured here has been sourced from the 1985 Vinyl bootleg L.P 'Not For Sale' due to it being 
slightly longer than the version on Yellow Dog's 'Acetates', and has no noise reduction used preserving it's 
original sound. 'One & One Is Two' was recorded by Paul between January & February 1964, originally 
intended for Billy J Kramer, and again the source here presents the disc without any noise reduction.
The next three songs are from a Phillips 45rpm acetate, containing tracks of The Beatles performance on 
the BBC's 'Saturday Club' recorded on the 22nd of January 1963. Brian Epstein had the recordings cut to 
acetate in January 1963.

What follows is an EMI 7" one sided acetate of 'You Can't Do That', recently purchased on a well known 
auction site for $2025, it was offered with provenance by Perry Cox who authenticated the disc. This early 
take differs from the released version.

Another Dick James acetate follows, 'And Your Bird Can Sing' offering the song in a similar mix to the 
released version, although subtle differences can be heard between this and the Revolver version. 
'Not Guilty', a George Harrison penned song recorded on August 7th, 1968 is presented here on an 
Apple Custom Recording acetate, take 102, rEMIx mono 2 was cut to disc and can also be found on the 
1986 L.P 'Not Guilty' which is where this source derives from.

'Hey Jude' was one of the Beatles most popular songs of 1968, what's featured here is an unusual gem,
an Americom Pocket flexi disc, these were 4" flexi records

designed to play on miniature turn tables, although these discs were limited in this format, the mono edit 
presented here is 3:25 in duration, as the regular version would not fit on these tiny records in this format.

'The Beatles Box', an eight L.P compilation set housed in a wooden crate style box was issued in 1980 by 
World Records. To promote this release, a flexi disc was issued by Lyntone Records which presented a 
number of edited songs from the set with narration, we've included this here along with a further 'World 
Records' flexi from the Singles Collection on Track 15.

'Disc & Music Echo' was a popular music paper in the day, what we have here is a 1966 flexi disc from 
issue 1, entitled 'Sound Of The Stars'. With introduction by Radio Caroline's DJ Tom Lodge, it consists 
of short interviews with: Cilla Black, Cliff Richard, the Hollies & The Beatles with Tom Lodge to name 
a few.

Mark Lewisohn, a well known Beatle historian published a book entitled 'The Beatles Live!' in 1986, 
the book featured a free flexi disc of The Beatles first radio interview from the 27th of October 1962.
 They conducted this interview prior to their fourth and final live appearance at the Hulme Hall in Birkenhead 
 for Radio Clatterbridge. Interviewed by Monty Lister, with additional questions from Malcolm Threadgill 
 and Peter Smethurst, making this the first surviving spoken word interview.

'World Records', a division of EMI released a number of 'mail order' only compilations and collections 
in the 1970's & 80's, presented here is a rare flexi record to promote 'The Singles Collection 1962-70' 
sound for industry released in 1977, it provides the listener to a number of edited Beatles recordings 
as packaged in the single collection with narrative.

A recent discovery of 'The Ballad Of John & Yoko', an Apple acetate with hand written label containing an 
early stereo mix of the song in an 'un-patched' state, previous releases of the acetate had a patch from the 
released mix to cover the line "eating chocolate cake in a bag" where the acetate was damaged and 
would not play.

Four bonus tracks grace this collection which consist of solo and related material, these begin with an 
8" mono acetate of Paul McCartney's first solo single 'Another Day', this follows with a 10" Main Room 
Acetate from Yoko Ono of 'Sisters O Sisters', a rough stereo mix lacking the orchestral overdubs arranged
by Ron Frangipane dated February 29th. A 10" Metromedia acetate recorded by the Elephants Memory called 
'Go Down Go', this was later re-titled 'Everglade Woman' and was an unreleased Apple Single P-1856. 
'Thingumybob' a 7" EMI disc acetate with hand written label, this is an rare acetate of the Black Dyke
Mills Band produced by George Martin and Paul McCartney.

This brings to a close the third volume in this series of 'Acetate Collection' compilations from The Beatles.
All tracks are derived from the best possible source material which have received no digital mastering, 
they are compiled here just as they were found. 


© 2012 David Laurie